SIZE CHART
To choose the correct size for you, measure your body as follows:
WIDTH : Measure around your chest to the fullest part, place the tape close under the arms and make sure the tape is flat across the back.
HEIGHT: Measure from the back of your neck.
Oversized means that the shoulders are slightly dropped and that overall, it is longer from your waist line.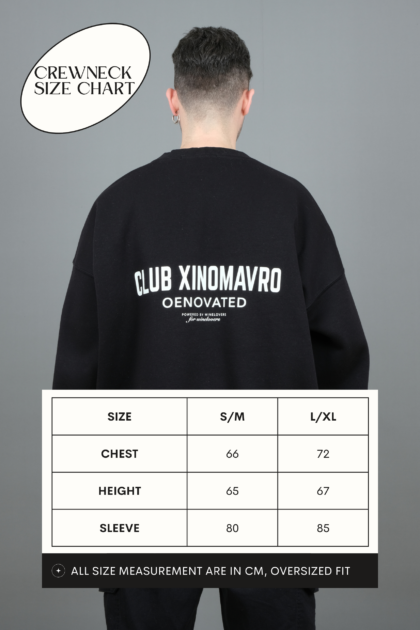 SHIPPING & DELIVERY METHOD
Allow up to 2 business days for your order to be processed and shipped, and another 1-4 business days for your purchase to arrive within Greece.
In Cyprus , 10-15 business days if you choose Speedex, 1-2 business days if you choose DHL.
In E.U., 1-2 business days with DHL.
IF  POSSIBLE, due to couriers availability, workload, weather, inaccessible-remote areas, periods of increased demand, etc.
Shipping costs are being calculated during the checkout depending on the destination and the order weight.
All orders over 90€ and within Greece, will be of free delivery.
RETURN POLICY
Want to switch to another size of the same product? You can do that, just contact us.
Want to switch to another product? You can do that too, just contact us.
Changes are accepted within 14 days after delivery. The product HAS to be in the original courier bag with NO FLAWS.
The cost in total is 9€ for shipping expenses in Greece and 20€ in Cyprus. Returns from EU depends from the country destination. Those costs are for any kind of return.
Contact oenovated@gmail.com with the order number and the change you want. As soon as we reply to you, we will proceed with the change process.
Enclose the products you want to return, and the reciept, in the ORIGINAL PACKAGE. Close the package well.
All items, must be intact, in their original condition (no stains, not worn), not damaged and the tags must not be missing.
You send it exclusively with SPEEDEX to Sinopis 17, 54453, Thessaloniki under the name OENOVATED, and you let us know with an email, the tracking number of your parcel.
All discounted orders are final sale – no returns or exchanges.
The Company assumes no responsibility for any damages or deterioration of the products following their usage, and is not obligated under any circumstances to provide replacements.
No refunds accepted, instead you get a voucher that lasts for 6 months.
Alternatively, you can always visit our store (under appointment) in Sinopis 17, 54453,Thessaloniki Greece, in order to return the product.
CUSTOMER SERVICE
Email : oenovated@gmail.com
Instagram DM: @oenovated
Mo-Fri: 12:00-18:00